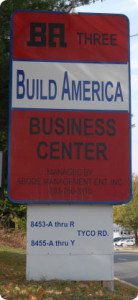 OUR LOCATION
8455-U Tyco Road Vienna, VA 22182 [Get Direction]
GET IN TOUCH
Phone: (703)893-1860
Fax: (703)893-2475
We are located in the Build America Business Center. We are in the same complex as Pizza Hut delivery store. Bear to the right as you enter the complex. We are on the 4th row of the complex all the way to the rear
From Route 7 (Fairfax and Loudoun County)
Traveling 7 EAST (headed into Tysons Corner)
Turn LEFT onto TYCO ROAD
We are located in the Build America Business Center. We are in the same complex as Pizza Hut delivery store.
Bear to the right as you enter the complex.
We are on the 4th row of the complex all the way to the rear
Note: Tyco Road is the first traffic light east of the Toll Road (267).
From Maryland
Traveling 495 West towards Northern Virginia
Merge onto VA-267 W via EXIT 45A toward DULLES AIRPORT (Portions toll)
Take the SPRING HILL RD / VA-684 exit- EXIT 17
Turn LEFT onto SPRING HILL RD
Turn RIGHT onto TYCO RD
We are located in the Build America Business Center. We are in the same complex as Pizza Hut delivery store.
Bear to the right as you enter the complex.
We are on the 4th row of the complex all the way to the rear
From Springfield, VA — Fairfax County
Merge onto I-495 N / CAPITAL BELTWAY toward FAIRFAX / ROCKVILLE
Merge onto VA-267 W via EXIT 45 on the LEFT toward DULLES AIRPORT (Portions toll).
Take the SPRING HILL RD / VA-684 exit- EXIT 17
Turn LEFT onto SPRING HILL RD
Turn RIGHT onto TYCO RD
We are located in the Build America Business Center. We are in the same complex as Pizza Hut delivery store.
Bear to the right as you enter the complex.
We are on the 4th row of the complex all the way to the rear
From Washington, DC
Merge onto I-66 W / US-50 W
Take the ARLINGTON BLVD / US-50 W / G W PARKWAY exit
Merge onto GEORGE WASHINGTON MEMORIAL PKWY N / GW PKWY N (Crossing into VIRGINIA)
Take the VA-123 exit toward CHAIN BRIDGE / MCLEAN
Keep RIGHT at the fork to go on VA-123 S
Merge onto VA-267 W toward I-495 N / DULLES AIRPORT (Portions toll).
Take the SPRING HILL RD / VA-684 exit- EXIT 17
Turn LEFT onto SPRING HILL RD
Turn RIGHT onto TYCO RD
We are located in the Build America Business Center. We are in the same complex as Pizza Hut delivery store.
Bear to the right as you enter the complex.
We are on the 4th row of the complex all the way to the rear