As the writer and editor of the Tysons Auto Specialties Monthly Newsletter, I'm going to cut into the Spotlight line up and talk about our host – Tom Ivey and Tysons Auto Specialties. This month I especially want to highlight a service that I recommend to everyone I meet – The Tysons Auto–TireRack.com partnership.
When you need tires, you can order them through Tire Rack online, have them shipped directly to Tysons Auto Specialties and their technicians will take care of the mounting, balancing and installation of your new set.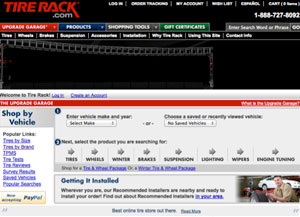 Recently my son took his Honda Accord in for its annual inspection, which it failed because of tire wear. When he called me, I immediately thought of Tom's TireRack.com connection and told him to call them.
He then called Tom and told him the tires were on their way. An appointment was scheduled, the tires were installed two days later and the car passed the inspection. The whole experience was easy and affordable!
How easy is it to order tires from TireRack.com? If you know exactly what tire you want to order, you can do it quickly and easily online.
If you want some assistance or would like recommendations on a better type of tire for your particular vehicle, I suggest you call. Tire Rack has knowledgeable sales people who, through a few key questions, can help you find just the tire you are looking for.
About two years ago I needed tires for my Nissan Maxima and took advantage of the TireRack.com option after pricing tires in a local store. I could have ordered the exact same tires online, at a substantial savings, but decided to call instead and see if there might be a better recommendation for my vehicle.
The friendly sounding voice on the other end of the line put me at ease when I called. "OK. Let's get started!" he said, after I introduced myself and described my situation.
He asked for the make, model and year of my car along with the brand, model and size of the tire I was currently using.
"If you would like to replace those with the same exact tire, we've got a great deal. Four tires will run you $XXX.XX plus shipping. Where do you want the tires sent?"
"Tysons Auto Specialties," I replied.
"Sure, you're talking about Tysons Auto Specialties on Tyco Road in Vienna, Virginia. I have all the information right here. Your shipping runs $50 for four tires; I'll give you an exact amount after we finish writing up the order."
"Before we do that, let me ask you…" I inserted, "Is this the right tire for me to buy?"
"Let's talk about your driving habits and what kind of ride you are looking for."
We talked about road conditions – ice, snow, rain; how much driving I do; my desire for a softer riding tire but still high performance and other things. I also mentioned seeing a certain model advertised at a local dealership that was also listed on their site.
"Well, that particular tire will cost you a few dollars more but I really think it is a much better choice for you. It will give you a better ride, good traction… it's one of their newest models. It might be worth the difference."
We wrote up the order and the tires were shipped the same day. Tire Rack didn't have the particular tires I ordered in their Delaware facility, so they were shipped out of Connecticut and arrived two days later. (Sometimes with a Delaware order, your tires can arrive the next day.)
Three days later I drove away from Tysons Auto with my new tires. I could immediately tell the difference in handling and ride. The agent's recommendation was right on target. In fact, I had forgotten how much difference the type of tire can make in the ride of a car.
From a simple phone call, you can find just the right tires for your car and set everything in motion for a quick yet fully professional solution. I your experience is similar to mine, you can have your tires delivered, mounted and balanced for a little more than 60 percent of most of the prices quoted locally.