I'll guarantee same day service on this special offer when you call (703) 893-1860 to schedule an appointment.
As a reminder, we offer free transportation to your work place or a Metro station within a reasonable distance from our shop.
Manufacturer recommended service work performed by Tysons Auto Specialties will ensure continued protection under your new car manufacturer warranty.
Limit One coupon per visit, Certain Restrictions apply
Service Special starting at $69.95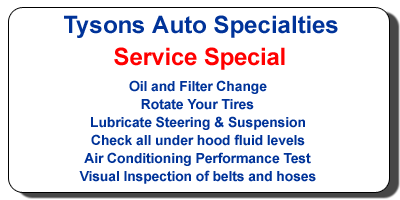 Oil and Filter change
Rotate your tires
Air Conditioner performance test
Check all under hood fluid levels
Air Conditioning Performance Test
Visual inspection of belts and hoses
$10 off of your next visit